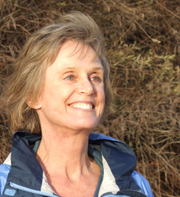 "When I paint, I feel deeply connected to my subject and create a mix of my own experience with it. When it works, it feels genuine, new and fresh, a part of nature."
Patty Sheehan, now living in Toledo, Ohio, was raised in New Jersey, and has lived, travelled and worked in several states and abroad. She has always expressed herself through the arts. As a teacher, psychotherapist, speaker and writer, Patty has inspired many children and adults to develop their own creativity and uniqueness and now focuses on her own.
Since childhood, Patty knew she would be a painter. Before taking any formal classes, her primary influences were her grandfather, an oil painter; the French impressionists; and modern European and Latin art. But what influenced her most were the wild and wonderful landscapes and artists of northern New Mexico.
Her painting "Adobe & Wine" won the 2008 Toast of Taos Art Competition. Her work is colorful, expressive and highly original.
To visit Patty Sheehan's studio, call
575 613 5377
for an appointment.